How to Choose a Projector for Home
For those looking to bring the cinema experience into their home, selecting a projector is an essential part of creating that perfect setup. When it comes to choosing the ideal device for your space and needs, there's much more than meets the eye – from room size and throw distance through to resolution quality, contrast ratio, and connectivity options.
Taking all these factors into account will ensure you get optimum image performance within budget every time!
Before investing in a home projector, consider the size and shape of your room. Factor in ambient light for optimal viewing quality then decides on what throw distance is necessary to fit your desired screen size – all while keeping an eye out for resolution, contrast ratio, and color accuracy.

Considerations for Choosing a Projector for Home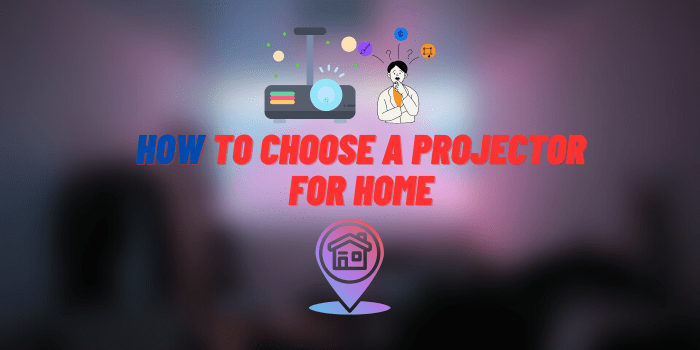 Room Size
When selecting a projector for home use, your room size is not one thing to be overlooked. If you have limited space, then it's wise to choose the best image quality available with moderate brightness levels.
On the other hand, if you are spoilt for choice in terms of space, make sure that you get a bright and sharp display by opting for high-level luminosity projectors!
Ambient Light
When deciding on the perfect projector for your home, consider its luminescence. A brighter room calls for a model that can shine through plenty of ambient light, while darker rooms don't demand as much brightness.
Allow this factor to guide your selection and ensure you get the ideal viewing experience.
Throw Distance
To ensure a crisp, clear image on the perfect size screen for your space, don't forget to factor in throw distance.
You'll need to calculate how far away from the wall your projector will be based on its projection capabilities and room dimensions – ensuring an optimal viewing experience!
Resolution
The resolution of your home projector should be carefully chosen to ensure the highest quality image possible.
Whether it's 1080p or 4K, having a high-resolution projection will bring you closer than ever to life-like visuals with sharp and detailed pictures.
Contrast Ratio
When selecting a projector for your home, the contrast ratio is an important factor to keep in mind.
It defines the sharpness of colors and levels between bright and dark tones within images displayed on your screen. Higher ratios will give more lifelike results.
Color Accuracy
If you're looking for a projector to use at home, don't forget about color accuracy.
This key factor dictates how accurately your images will come through with stunningly realistic and vivid colors – something we all want in our visual experiences!
Connectivity
Ensuring the projector, you choose has all the right connections is essential for an optimal viewing experience.
Explore its range of inputs and outputs to see if they are compatible with your other devices, like gaming consoles or a Blu-ray player – so every movie night feels like going out to the movies!
Price
Price is a key factor in selecting the right projector for home use. You'll need to balance affordability with features and image quality, ensuring you get great value without breaking your budget!
How to Choose a Projector for Home: Brightness Requirements for Different Room Sizes
For optimal projection, it's important to consider both the size of your space and the brightness level.
A small room with a diagonal screen size of up to 80 inches requires 1500-2000 lumens for ideal display.
Medium rooms of 80-120-inch diagonals need 2000-3000 lumens for an immersive experience.
Finally, large spaces over 120 inches demand 3000 or more lumen levels for maximum impact.
Projector Brightness Requirements for Different Levels of Ambient Light
For maximum clarity and visibility in your projection experience, it's important to consider the amount of ambient light when selecting a projector. If you have plenty of natural illumination from large windows or other sources, opt for at least 3000 lumens – this will guarantee optimal brightness no matter how much sun is streaming into your space.
In rooms with minimal external lighting such as basements or dedicated home theaters, however, 1500-2000 lumens should provide ample detail without overloading the eye.
How to Calculate Throw Distance
To achieve the cinematic experience you desire, use a projector throw distance calculator or consult your chosen unit's specifications to accurately calculate how far away from the screen it should be placed.
This will take into account not just its lens and zoom capabilities but also the size of the display desired for an optimal viewing experience.
How Contrast Ratio Affects Image Quality
As the contrast ratio increases, an image's vividness and realism will be amplified – but so too does its cost. So, it is important to understand what type of content you plan on displaying when making this investment
For movie buffs in particular, a greater contrast ratio yields remarkable detail even during shadowy scenes, thus providing more clarity than ever before!
How Color Accuracy Affects Image Quality
To make sure your movies are as vibrant and lifelike as possible, investing in higher color accuracy is the way to go. The type of content you plan on viewing will determine how much accuracy can be beneficial.
Vivid colors benefit greatly from accurate reproduction. Investing extra for a more realistic image quality pays off!
Conclusion
Finding the perfect projector for your home theater can be a daunting task. But by doing your research and ensuring you find one that fits all of your specific needs, preferences, budget restraints, and room size – you'll enjoy an immersive viewing experience!
Prioritize features like quality visuals in different lighting conditions to ensure optimal satisfaction at every showtime. With careful consideration regarding these factors, you can easily nail down the best value-for-money projection solution available out there today!